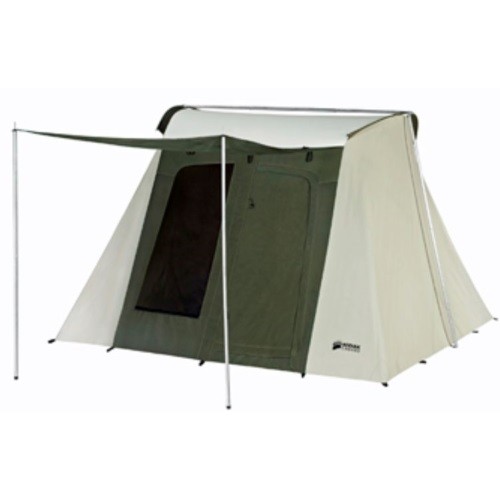 Internal frame for insulation for tents without rainflys.
Canvas tents like the ones make by Kodiak are growing in popularity because they are well built, breathe, and are very dust-proof. However they too can get very warm.
In 2015 I had a large shade structure over my tent, along with a Homer Bucket Swamp Cooler - and it did the trick. But shade structures are bulky, heavy, and somewhat expensive. And they still aren't as good as radiant barrier when it comes to blocking the sun.
My old method of Radiant barrier on the outside won't easily work because there is no rainfly on a Kodiak, and there is no easy way to secure Radiant Barrier to the outside of the tent.
My camp mates, the Johnstons, came up with an interesting idea. They built a PVC internal skeleton for their Kodiak. Here's what they said:
I assembled the endoskeleton tent reflection system. Once inside the tent the reflective barrier is place over it. I did not unroll it all the way, but starts at the bottom of one side, over the top to the bottom of the other side. The weighted tube (sand inside, duct taped ends) is used to help keep it in place. For our tent, two pieces of barrier are used. 3/4" PVC Schedule 120, with fittings from the Home Depot (contractor packs). Aluminum foil tape is good to use (never cut tape), found in ventilation aisle. I have a 8 foot tube for storage and transport. Our tent has two sections, so there are 2 sets of pipes. In addition to labeling the fittings and pipes with (A, B C) there is another marking for which section (main, awning). The wood stick is not part of it (just to hold it for the pictures). Caps on ends that hit the floor of the tent.