BURNINGMAN COOLER ADVICE
I cannot stress how important it is to keep your perishable food untainted and frozen. A few years ago one of our campmates had blood from a thawing raw steak leak into the ice in his one and only cooler, and come into contact with his beer bottles got contaminated. A day or so later he and his girlfriend drank beer and got the runs. There's never a good time to have the runs, but at Burning Man, with porta potties.... you couldn't get much worse.
Here are some suggestions:

Wash your coolers well, ideally with bleach, before Burning Man
You can freeze raw food and cook at Burning Man, or pre-cook food that keeps well (pasta sauce, curries, etc) and freeze it in the default world, then vacuum seal (or ziplock bag it) and freeze it. Then store in your food cooler and thaw and re-heat (boil in the bag) when you are ready to serve.
Use "Extreme Coolers" (or 5 or 7 day coolers) several companies make them. They have thicker insulation and keep stuff colder for longer. The downside is that they have thicker walls, and so hold less.
Use at least two coolers - one for food (that gets opened occasionally) and one for drinks. Make sure the seal on the coolers (particularly the food cooler) is tight.

For your drinks cooler, use regular ice (and replenish as needed with ice purchased from Camp Arctica).
If you are using ice for mixed drinks, I recommend a third (clean) cooler that only holds ice, or keep your drinking ice in its own bag and out of the melted mush. Use a plastic cup as a scoop.

Consider additional insulation on the outside of your coolers - or at least for your food cooler (I bought a couple of car sun shades and cut them to size and duct-taped it in place). If possible, raise your coolers off the ground (or insulate the surface beneath the coolers). Stacking your coolers (and insulating them) will also work well and take up less floor space, but can be more cumbersome to get stuff out. See an example of a well wrapped cooler by my dear friend Rae:
Keep you coolers in the shade at all times. I usually make a space between tents
Wrap your cooler with insulation to make them more efficient. I use automobile sun shades (highly reflective aluminum foil) and wrap your cooler. It takes a scissor, a roll of good duct tape, and about an hour of work. Fully worth it!
Some people use Dry Ice with their food cooler

Wrap dry ice in old newspaper to protect it from exposure to condensation and other moisture.
Start with dry ice and add layers of relatively flat (ideally vacuum sealed) food packs between layers of dry ice.
Caution: Dry ice sublimates into a gaseous state (water vapor) if exposed to moisture . It disappears really quickly when wet and your food will be ruined.
Dry ice freezes food like a rock - so you need to plan ahead and take food out several hours before you need to re-heat it. I take Lunch food out in the morning and leave it in sunlight to thaw out.
Safety tip: use gloves when handling dry ice as you get freezer burns in seconds
Do not place cans or bottles next to dry ice as they will freeze and burst. See Camping and Traveling with Dry Ice
Some grocery stores carry dry ice, but I always buy dry ice from an Ice Cream wholesaler - as it is much cheaper. In the Phoenix I go to:
Big Boy Ice Cream Co (used to be Excel Ice Cream & Candy Co)
1620 W Grant St
Phoenix, AZ 85007-3316
(602) 258-9793 (call and check weekend hours)

Try and insulate your coolers (with sleeping bags, etc) for the for the trip out to BM - this way you don't expose the coolers to unnecessary heat on the way there.
One the way back, use your coolers for stinky trash - and then remember to empty them out and wash with bleach when you get home.
Burning Man - Camp Arctica (Ice camp):
Camp Arctica sells Ice at Burning Man. (Ice and coffee are the two things that you can buy at BM). Arctica are always looking for volunteers and you get a free bag of ice and often other gifts for each shift. They also have a tip jar and at the end of the shift you can opt to join in the split. If you are hauling ice, it is strenuous work but they also need people to work the cash register, etc. NOTE: I believe that if you join Arctica and sign up early and commit to work a minimum number of hours, they have a small number of openings for "staff" - and with this commitment they will cover your ticket.

Ice will sold in three locations

Center Camp
Ice 3 - at the 3:00 (usually in the keyhole)
Ice 9 - at the 9:00 (usually in the keyhole)

Hours will most likely be

9am - 6pm daily during the event
Prior to gates opening, and after Labor Day: Typically, Arctica in Center Camp will be the only station open and the hours will be from 9am to 12 noon

2017 Update!

Prices have gone up for the first time in many years:

$4 each (for 7lbs bags of crushed ice or 10lbs bags of block ice).
$24 for six-packs of the 7lb bags of crushed ice

Pro tip 1: the 10lbs blocks last longer, 3lbs more ice, and last longer in your food cooler.
Pro tip 2: if ice is emptied from the bags into a separate container in your cooler (2.5 gallon water jugs with a spout work great), when it melts you have cold water to drink, no waste and a cleaner ice chest.
Pro tip 3: On your way out you can freeze water jugs and they will be your "ice", and when they melt, you can drink it.
Pro tip 4: Use a 2.5 gallon rectangular jug and when you buy block ice on Playa, cut open a lid and drop the block ice into the rectangualr jug - so as it melts, it becomes iced drinking water.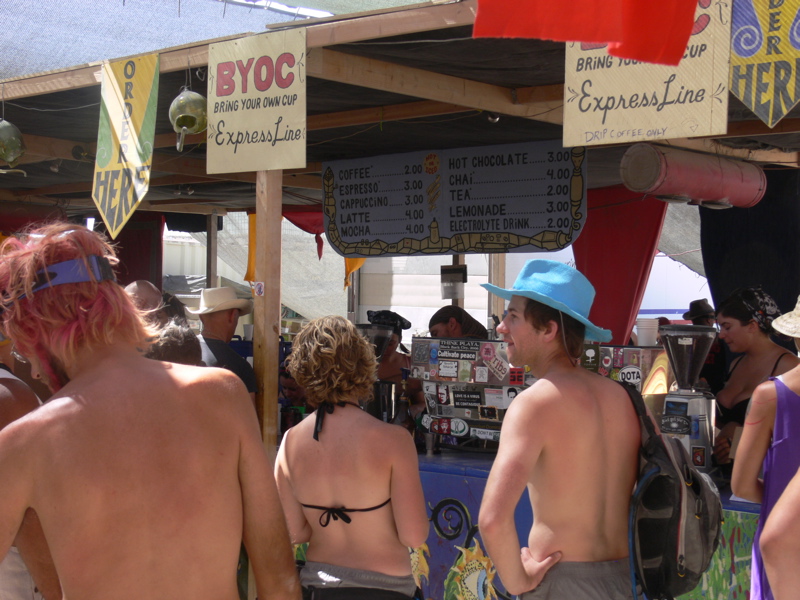 Also (I digress) when in Center Camp - Coffee:
Please try and Bring Your Own Cup (BYOC) - there will be an express line for those who bring their own cup. Write your name (and drink choice if you always drink the same thing) on the cup or attach a lable - this all speeds up the process and makes life much easier for the volunteer staff.
Hope this helps!
Other help pages
Version 8 - updated August 2017
Copyright None - But drop me a note if you find this to be helpful
Email: ruvi (at) azburners (dot) org
Member of Camp Walter